Latgalian
Latgalian is a regional language in Eastern Latvia. Read more here.
Stefania Ulanowska was a Polish ethnographer who spent several years in a Latgalian parish and collected examples of the local folklore: fairy tales, folksongs, proverbs, riddles. She published her collection in two languages (Latgalian with Polish translations) between 1892 and 1895.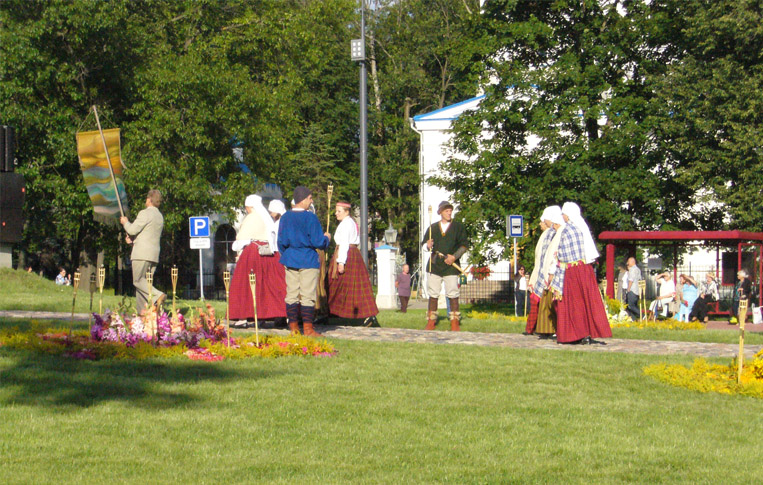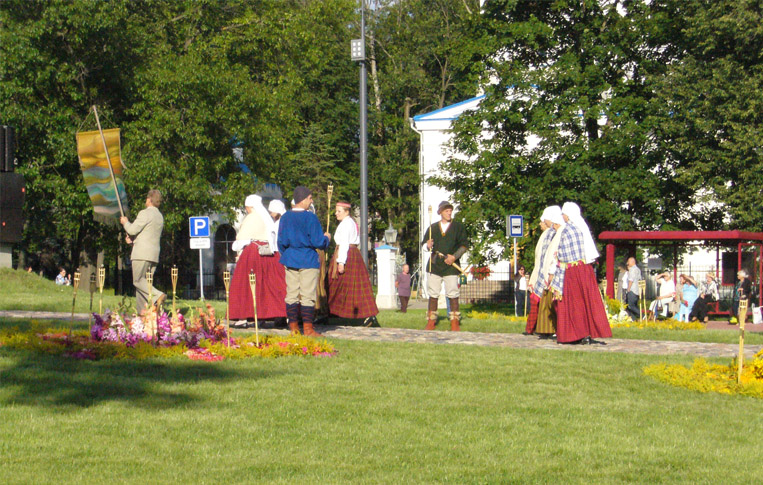 Read and listen to the riddles and choose the answer from the list! (If you listen carefully, you can hear the answer at the end of each sentence): beetroot (batwińś / batviņs, comb and lice (grebieńc i wȗts / grebeņs i vuts, cabbage (kopustu galwienia / kuopustu gaļveņa, scythe (izkapt'ś / izkapts, book (gromota / gruomota, eyes (aciś / acis, cucumber (ogurćs / ogurcs, bee (bitia / bite, sun (saŭla / saule, magpie (zogota, rifle (blisia / blise, candle (woska świeca / voska sveca, beetle (wabala / vabale
| Riddle (Latgalian. Original ortography 1893) | Translation | Answer |
| --- | --- | --- |
| 1. Bitia skriń par baźnicu, soka: Diŭs, diŭs, muna praca dag! | 1. A bee flies around in the church and says: Oh my Lord, my work is burning! | 1. wax candle |
| 2. Diŭ broli dziejwoj par ulnicu, a wins utra na riadz. | 2. Two brothers live across the street, but they don't see each other. | 2. eyes |
| 3. Kaj dinas bołtums, kaj nakti małnums, kaj zyrgs zwidz i kaj marga doncoj. | 3. White as the day, black as the night, whinnies like a horse and dances like a girl. | 3. magpie |
| 4. Małna gȗtienia ziemia łajza. | 4. A little black cow is licking the earth. | 4. scythe |
| 5. Małns, kaj wałns, nawa wałns, rȗk kaj cyŭka, nawa cyŭka, graŭsz kaj parkiŭńs, nawa parkiŭńs, skriń kaj putnys, nawa putnys. | 5. Blakc as the devil, but it isn't the devil, grunts like a big, but isn't a pig, buzzes like thunder, but isn't thunder, flies like a bird and isn't a bird. | 5. beetle |
| 6. Moza, moza bobienia, symts skustu gołwā. | 6. A little, little woman with a hundred kerchiefs around her head. | 6. cabbage |
| 7. Moza, moza ustabienia, ni ługu, ni durowu, a laŭds wydā. | 7. A little, little room, neither windows nor doors, but people inside. | 7. cucumber |
| 8. Mozs, mozs wiejrińcz, oss, oss cierwiejts. | 8. A little, little man with a sharp, sharp axe. | 8. bee |
| 9. Nadziejws dziejwu wałk. | 9. A dead thing that pulls a living thing. | 9. Grzebień i wszy |
| 10. Sorkons gajlejts ziemiā dzȋd. | 10. A little red cock that sings in the earth. | 10. beetroot |
| 11. Tȋwa jumprawa tole splaŭn. | 11. A thin damsel who spits far. | 11. rifle |
| 12. Załta cyba azarā. | 12. A golden disk in the lake. | 12. sun |
| 13. Pyłns tiejrums małnu gutieniu. | 13. A field full of little black cows. | 13. book |
In Latgalian, especially in the language of the 19th century, there are many words borrowed from a Slavic language: from Polish, Belarusian, or Russian. This is one of the features that distinguishes Latgalian from Latvian, where in turn we find more loanwords from German. Compare the words in the following list and decide which Latgalian words may be Slavic loanwords. Note that borrowing is not the only reason why words look similar (which other reasons could there be?).
łotewski
łatgalski
(current orthography)
łatgalski
(as in 19th cent.)
polski
English
acis
acs
aćś
oko
eye
ezers
azars
azars
jezioro
lake
biete
batviņs
batwińś
burak, botwina
beetroot
diena
dīna
dina
dzień
day
divi
div
diŭ
dwa, dwie, dwu
two
durvis
durovys
durowys
drzwi
door
dzīvs
dzeivs
dziajws
żywy
alive
ķemme
grebeņs
grebieńś
grzebień
comb
kāposti
kuopusta
kopusta
kapusta
cabbage
ļaudis
ļauds
laŭds
ludzi
people
nakts
nakts
nakts
noc
night
gurķis
ogurcs
ogurćś
ogórek
cucumber
darbs
praca
praca
praca
work, workmanship
pilns
pylns
pyłns
pełen
full
lakats
skusts
skusts
chustka
kerchief
iela
uļnīca
ulnica
ulica
street
vasks
vosks
wosks
wosk
wax
zelts
zalts
załts
złoto
gold
zeme
zeme
ziemia
ziemia
earth
Answer
batviņs 'beetroot', grebeņs 'comb', ogurcs 'cucumber', praca 'work', skusts 'kerchief', and uļnīca 'street' are loanwords stemming from a Slavic language, most likely from Polish. They are not found in Latvian.

Other reasons:
The word Latvian kāposti, Latgalian kuopusta was borrowed into Baltic languages from Old Russian. Other words in the table contain Indo-European roots that are found in both Baltic and Slavic languages as a common heritage. They may be also found in other Indo-European languages. Compare, for example, Latgalian saule and Italian sole, Latgalian nakts and German Nacht.