Puma is one of the 123 languages spoken in Nepal. It belongs to the Kiranti group of the Tibeto-Burman branch of the Sino-Tibetan language family. Puma is endangered, as it is spoken mostly by adults that also regularly use another language – the national language Nepali and/or another Kiranti language, Bantawa or Chamling. However, according to the 2001 national census the number of speakers was 4,310, but the newest census of 2011 registered 6,686 speakers.
What makes a language vulnerable, what makes a language safe? Read more about it in Chapter 8 of the Book of Knowledge!
In Puma, 'mother's brother's wife's elder brother' is expressed with just one word. Find exercises on Puma kinship terms on the Interactive Map!
FURTHER INFORMATION AND RESOURCES
DoBeS Chintang and Puma project: http://www.mpi.nl/DOBES/projects/chintang. This site contains some information on the language and culture, photographs and a short audio recording as sample. The Puma corpus in the DoBeS archive offers more information and many resources accessible for unregistered users.
See photos from a Puma village at this gallery:
http://www.flickr.com/photos/srlarsen/2971347882/in/set-72157608349472390/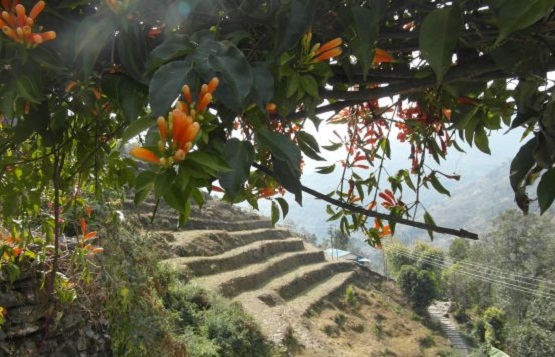 Photo: Małgorzata Gałan.